Tips for easier online registration and payment!
Summer Day Camps
Summer Day Camps, for children aged 4-10 years, are really popular in Manor Park!  Families select from a variety of themed half-day camps, with the option of a free supervised lunchtime for those attending both morning and afternoon camp.  Extended camp hours (8:00-9:00am and/or 4:00-5:00pm) are offered for an additional fee at time of registration.
Camps take place in and around the Manor Park Public School and the Manor Park Community Centre. All camps combine active sports and games, arts & crafts, songs, and time in the splash pad.  Experienced instructors, with the support of high school students and junior leaders create the camp magic.  We have about 20 children per camp.
Campers should bring: a snack and/or lunch which is nut- and peanut-free, a bathing suit, reusable water bottle and towel for the splashpad, and  water shoes are recommended. Sunscreen should be applied prior to arriving at camp or provided for the camper to apply themselves.
All campers receive a souvenir t-shirt!
Please note:
Campers must have celebrated their 4th birthday prior to the first day of their camp. 
Spots are filled on a first-come, first-served basis, upon completion of the online registration and receipt of full payment. 
Families are urged to register early to secure their preferred camp week or theme.
Vacation plans changed or need an extra week please call us at 613 741 4776 or email us at mpcc@manorpark.ca.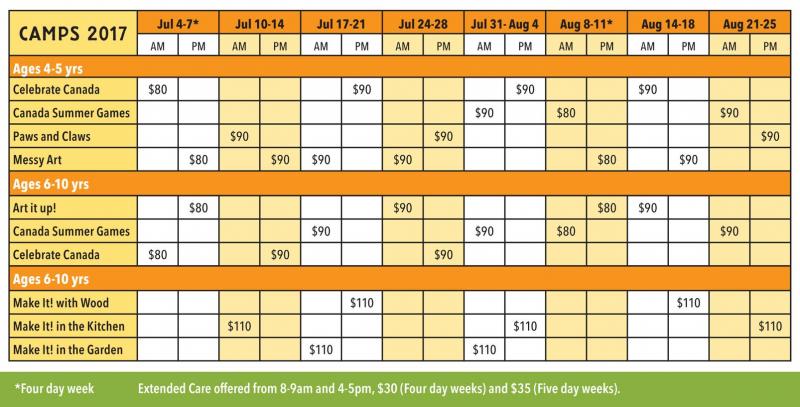 Ages 4-5
Celebrate Canada
Celebrate Canada with the RCMP's Musical Ride in our very own neighborhood. Kids will sing and wave their homemade flags, while having fun. Interesting facts, landmarks and the history of
Canada will be explored.
Canada Summer Games
The Canada Summer Games are in Winnipeg —and Manor Park! Campers will run, throw and jump in this active camp. Children will play soccer, track and field, along with traditional cooperative
games and get wet in the splash pad.
Paws and Claws
Fuzzy and cute…small and scaly…big and hairy! Animals of every kind set the theme for arts & crafts, dramatic play, stories, and games. Campers will be invited to bring a pet for show and tell.
Messy Art
Finger painting, tie dye and mosaics are some of the activities that the campers will make. Campers will discover and develop their creative passions–and get a little messy!
Ages 6-10
Art it up!
A time to imagine and create – and get a little wild! Camp activities are ramped up with paint, dancing and plasticine. A time to imagine and create.
Canada Summer Games
Soccer, tennis, volleyball, flag rugby sevens, lacrosse, ultimate and the water splash pad…this camp has it all! Introducing a variety of summer sports that will be show cased in Winnipeg during the Canada Summer Games. Children of all abilities are welcomed to this co-ed camp where fun and friendship are emphasized.
 
Celebrate Canada
Campers will celebrate the history, and accomplishments of Canadians, "visit" our natural landmarks and taste some of our unique flavours of Canada.
Ages 6-10
Make it! with Wood
Campers will try hammering, drilling, sawing and measuring to complete their own check list of how to do's. Kids will build projects such as a legotm coat rack or a wooden flag. Teams of campers will
build a major project together—a "Go Kart "—that campers will be able to ride and enjoy at camp.
Make it! in the Kitchen
Discover the pleasure of food and cooking through taste, touch and smell. Locally grown produce might lead to fresh jam and other tasty treats. Each camper should bring their own apron.
Make it! in the Garden
Get dirty and learn all about gardening. Planting, mapping the beds, weeding and watering will get the gardens growing. Looking at seeds from the inside out, by making art projects like 'seedy
socks' will round out the fun.
 
TIPS FOR EASIER ONLINE REGISTRATION AND PAYMENT!
Recently, we have made improvements to online registration for Summer Day Camps. Now you can make one single registration and payment for multiple camps  and for multiple age groups. Please follow these tips:
Click REGISTER ONLINE (at the top of this page) or a link next to a program description.
From the PROGRAM CATEGORIES list on the right, select the program including age category, where applicable.
Read the PROGRAM NAME list. When you find what you want, click REGISTER beside it.
The next stop gives you a bit more information about the program.  If it is what you want click REGISTER FOR THIS PROGRAM.
You are now in your 'cart'.  Using the drop-down menu, select the NUMBER OF PARTICIPANTS you are registering for this specific program. They will be added to your cart.
If you want to add additional programs to your cart, do so now by repeating steps 2-5 as often as necessary.
When you have selected all your programs, click ENTER PARTICIPANT INFORMATION. Please note:  if you have more than one child registering for a single camp or program, enter all the names in one line as 'Participant 
Use EDIT YOUR CART found at the bottom of the page when necessary.