Community Events
Throughout the year, the Manor Park Community Council organizes a number of community events. Whenever possible, these events are designed for participants of all ages. We would like for members of the community to be able to participate without having to spend a lot of money. We see events as sharing fun with your community, neighbours and friends. Community events are made possible by MPCC employees, volunteers, local organizations and businesses.
---
Skating Party & Chili Cook-Off
Ottawa Marathon Hydration Station
Pints in the Park
Rock The Block
Manor Park Art Sale
Swaps
The Shoebox Project
---
Saturday, February 1, 2020
Manor Park Outdoor Rinks
3:30 - 5:00 pm - Hockey & Ringette Games
5:00 - 7:00 pm - Skating Party
Winter Classic hockey games, food, drinks, chili cook-off, music & skating!
The rinks come alive with hockey games and pleasure skating during our annual Skating Party. On the first Saturday in February, the party opens with our 'Manor Park Winter Classic' hockey games between local teams. Following the games, families take to the ice to build up an appetite for the Chili Cook-off entries and hot dogs. A bonfire keeps everyone toasty, while twinkling lights and a light snowfall make the Skating Party the perfect family event!
RSVP on our facebook event page!
Chef Tony Young, Clocktower Brew Pub is your 2019 Chili Camp! Try his winning recipe. 
Could you be the next Chili Champ?  What you need to know.
 
---
Ottawa Marathon Hydration Station
Sunday, May 24, 2020
Birch Avenue north of Hemlock Road
Tamarack Race Weekend includes the Scotiabank Ottawa Marathon, which runs through Manor Park around the 33km marker.  Runners enter our community from the Rockcliffe Parkway and travel south along Birch Avenue.  Cheers greet the wheelchair athletes, elite runners, as well as those out for their personal best or to walk the distance.  Community volunteers -- almost 70 of us -- staff the 'Hydration Station' on Birch just north of Hemlock.  Keeping the runners hydrated is serious business!  Come and be inspired!
---
Saturday, July 25, 2020
Beer. Food. Fun.
Presented by Natalie Belovic's Urban Ottawa and the Manor Park Community Council - Manor Park's newest community event is an adult-focused but family-friendly afternoon featuring cold brews served by craft breweries - plus local food, music and vendors. This totally inclusive event welcomes everyone from across city, and province.  The event - and community centre - are fully accessible.
Admission is free! But proceeds from the event, besides friendship, laughs, and good times, support The Opportunity Fund, which provides recreation opportunities for those in need.
in 2019, Dominion City Brewing Company and Broadhead Brewery were on hand to keep everyone hydrated. Along with food from Little Jo Berry's, The Merry Dairy & The Great Canadian Poutinerie. Guests shopped local goods from Grow Studios & Sunflower Soaps! Music provided by Winnie Julot & Patrick Rock!
Thank you Sponsors 2019: Perspective Renovations, Align Massage Therapy, Friends' Bingo, Accent Logos & Ottawa Skin Clinic. Thank you to all the volunteers who made Pints in the Park 2019 a great success.
---
Friday, September 11, 2020
Sport fields next to the Manor Park Community Centre
Outdoor Movie: TBD
6:00 pm: Food. Music. Activities.
8:00 pm: Outdoor movie - including popcorn and cotton candy!
Our most popular community event! On the first Friday following Labour Day, Manor Park comes out for food, music, a pie-baking contest, displays, and an outdoor movie! Ottawa businesses like The Works, Golden Crust Pizzeria, Mia's Indian Cuisine and (new!) Bacanalle offer food for sale. The most popular dessert is a slice from the entries in the Pie Baking Contest. Local not-for-profit organizations provide displays and activities. Kub Kar racing is particularly popular! The MPCC organizes sports, games, glitter tattoos and face painting. Local businesses like Edward Jones add their own special touch. 
Pie Baking Contest - Pie lovers salute the 7th Annual Pie Baking Champions: Nathan and Aidan Finnie! More teen bakers take the prize. Here is their winning Banana Chocolate Cream Pie recipe.
---
Now Accepting applications for 2020 display. Send your submissions to ssears@manorpark.ca by no later than February 7, 2020.
Art created by local artists will be proudly displayed in the entrance of the Manor Park Community Centre. Great viewing for residents and visitors. All work available for purchase.
Artists wishing to have their pieces considered must apply.
To apply, submit via email, the following:
high quality .jpg or .png file of art work
artist's name
contact information
brief biography
artist's statement (200 words maximum)
title of the work
year
medium
exact size (including frame, if appliable) and
price
All mediums accepted for consideration (photography, painting, mixed media, textile, sculpture, etc...)
20% of the selling price will be taken by the MPCC as commission. Revenue generated will support recreation programs for residents in financial need through The Opportunity Fund.
Unsold artwork will be returned to the artist after a period of approximately 6 months.
Amateurs and professionals are welcome to submit their work for consideration. Only those whose work is selected for display will be contacted.
NOW ON DISPLAY: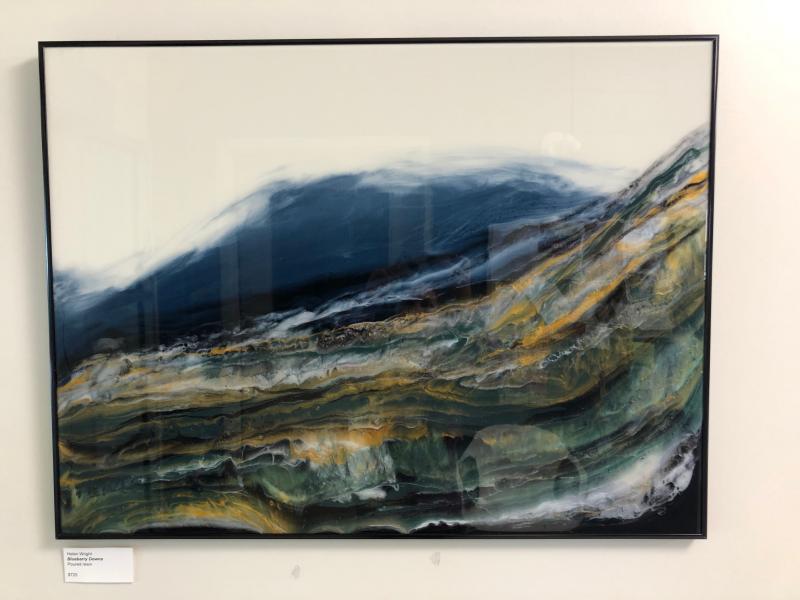 Helen Wright
Blueberry Downs
Resin, acrylic and pigment
32 x 24
$725
I was born in a small village in England called Marple Bridge. I've been living in Canada for twenty three years. I've loved art for as long as I can remember...always creating something! My passion for resin began three years ago, it's a perfect blend of glass and colour. I love pouring resin, the movement is slow but purposeful. I watch how the colours and resin flow together to become a beautiful piece of art. The medium is alive but only for a short while....then stops, frozen in time!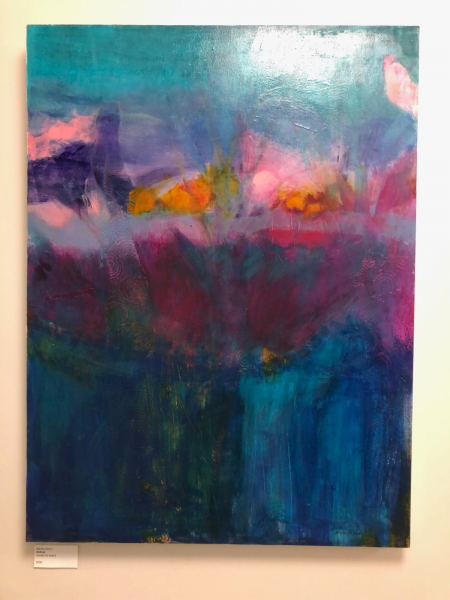 Martha Nixon
Estival
Mixed media on wood
38 x 70
$700
Martha's love of making art began with a trip to the Haliburton School of Arts during the first week of being free from her work as a public servent in 2003. Her studies continued at the Ottawa School of Art, Mixed Media workshops and classes. Martha's work can be fund in private collections and is available at the Galerie Old Chelsea, QC, and at Urban Ottawa on Beechwood Ave. Martha's work features her love of colour, texture and layers of transparent paint that often reveals what is in the background. Most often her work is abstract and shows how emotion can find its way to a canvas.

Teresa Rozkiewicz
Joyful Bouquet of Flowers
Acrylic on canvas
39 x 27
$500
Teresa is a Venezuelan-Canadian artist. Although she has a Master in International Relations from France and worked in development in Venezuela and Canada, her true passion, art, started during her university years and blossomed when she first lived in Japan. Her time spent there in the mid-nineties allowed her to experience the essence of the Japanese aesthetic and changed her life. Although mostly a self-taught artist, Teresa spent a year studying papermaking techniques in Japan and then back in Canada followed studies for one year at the Ottawa School of Art. Her pieces are structured in a series of layers and read through texture. The artist's work includes multiple layers of paint through which images appear tracing back in her memory. The washi paper, metal, photography and recycled everyday objects she uses give richness to her works, which are often reinforced with a photographic or text narrative. "My work is an interpretation of my new surroundings, new contexts, and new circumstances".

Casey Callahan
Purity of Peru
Acrylic on canvas
12.5 x 10.75
$105
Yes, I'm a Baby Boomer. And I was raised strictly by military and religious influences as we moved to a new Canadian town every six years. As a child, I lived very near Manor Park on two occasions and it still resonates with me. I studied language and adminstration for employment, and worked in health and social services, later becoming a teacher. A dreamy child, I soon escaped into my own softer world of a visual appreciation of simple things. Colour - always colour, and moments refined by nature or human quirkiness inspire me to take up the challenge on canvass or paper.  This journey has continued over the last twenty years.  My greatest schooling is my own observation and I have only graced the art course scene a few times. Often the observation comes from a scene in another country where I am artistically ripe to "see in a new way."
---
Skate & Accessory Swap
Wednesday, January 22, 2020
6:00 - 8:00 pm
Entrance voucher required
Has your child outgrown their skates – again?! Looking for a new-to-you pair for yourself? Save money – and the planet – by bringing in your used hockey or ringette skates, figure skates, skate guards, skate bags, hockey sticks, ringette sticks, to be swapped for new-to-you equipment. Please no hockey or ringette pads, or other winter sport equipment.
Drop-off your items at the Manor Park Community Centre from January 6 - 17, 2020. Upon drop off you will receive a voucher to participate in the Skate & Accessory Swap. The voucher will grant you access to the swap on January 22, and allow you to select from items contributed.
To obtain your entrance voucher, drop your items off at the Manor Park Community Centre at 100 Thornwood Road, Monday to Friday, 9:00 – 4:00 PM or call to make special arrangements.
Evening drop-off will be on Monday, January 13, 2020 from 6:00 – 8:00 PM.
Accepted items: hockey or ringette skates, figure skates, skate guards, skate bags, hockey sticks, ringette sticks.
Women's and Men's Clothing Swap
Saturday, March 28, 2020
11:00 am - 1:00 pm
Entrance voucher required
Fun, cost-effective and eco-friendly!  The best way to clean out your closet or find the perfect new piece to complement your wardrobe.
Children's Clothing Swap (including snowsuits and boots)
November 23, 2019
Halloween Costume Swap
October 2019
All swaps take place in the Manor Park Community Centre. Items brought to swap must be clean and bagged. Swap items should be delivered to the community centre on weekdays from 9 am - 4 pm. To arrange an alternate drop off time, please email ssears@manorpark.ca. 
---
Thanks to all who participated in our first ever Shoebox Project shoebox drive!
In 2019, together we collected 56 boxes to send to women who are homeless or at-risk of homlessness, and will allow them to feel loved and cherished this holiday season.
For full details please visit: http://www.shoeboxproject.com/ottawa