Introducing - the Fitness MultiPass!
Introducing the Fitness MultiPass from the Manor Park Community Council!
Busy week? Travelling for work? Not sure if you can commit to signing up for a full session?
The 5- or 10-class Fitness MultiPass gives you the freedom and flexibility to register for MPCC fitness classes around your busy schedule.
Redeeming your Fitness MultiPass to attend MPCC fitness programs is easy! Simply register ahead of the class as a drop in participant and your MultiPass will be automatically redeemed! For more information on how to redeem your MultiPass visit manorpark.ca/multipass.
5-class multipass - $60
10-class multipass - $115
Purchase online or in person at the Manor Park Community Centre.
MultiPasses are valid for (6) months following the date of purchase
Classes eligible for MultiPass:
Balance, Core & Stretch 
ELDOA & Pilates 
Hatha Yoga 
Meditation and Mindfullness 
Mens Core Fitness
Muscle Tone & Strength 
Party HEARTy
St Columba Full Body Workout for Women
Yin Yoga
Sorry, not eligible for Stay Strong & Stable classes.
How do I redeem my MultiPass?
Here's how to use a MultiPass to register for a fitness class drop-in:
After choosing a drop-in date, click the number next to the pass to use it.
NOTE: Instead of paying for the drop-in, Amilia refers to the client's eligible MultiPass.
Click 'Continue' to register using the MultiPass. A successful registration box appears.
There is no need to proceed through checkout.
One class pass is deducted.  In this example, 4 passes (uses) remain on the MultiPass.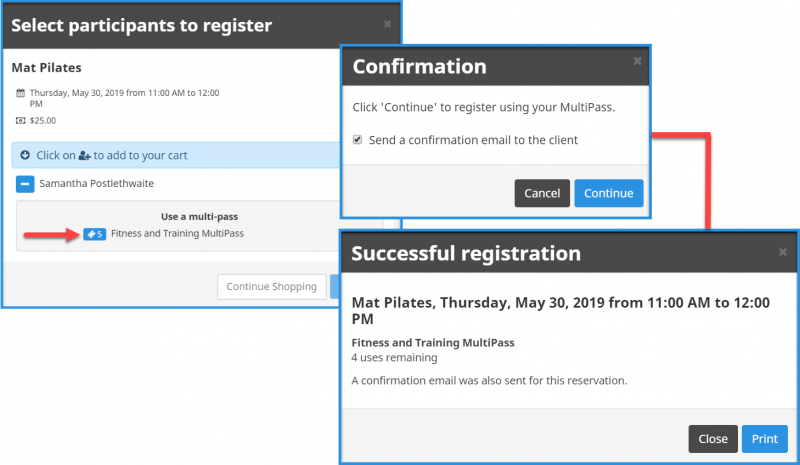 MultiPass Policy
Once purchased, the 5- or 10-class Fitness MultiPass can only be redeemed for eligible fitness classes or programs.
The MPCC reserves the right to add, subtract or change eligible classes at any time.
The 5- or 10-class Fitness MultiPass is valid for six (6) months following the date of purchase.
MultiPass will expire automatically after six (6) months. No refunds or credits will be issued for unredeemed classes following the expiration of a MultiPass.
The participant must use the MultiPass to register before the start time of the class.
MultiPasses are valid only for the individual for whom they were purchased and can not be gifted, transferred or redeemed by any other parties.