Register Now! For Families
The Manor Park Community Council (MPCC) endeavours to provide opportunities for members of the community and beyond to develop their minds, bodies, and community spirit. Below you can see programs for families that are open for registration right now!
MPCC programs, events and activities do change with the seasons. Continue scrolling to get a feel for seasonal programs that we offer throughout the year.
---
At Home Jolly Gingerbread House Kits
Friend & Family Activity Bags
Halloween
Swaps
Special Events
Family Workshops
Family Fitness
---
At Home Jolly Gingerbread House Kits 2020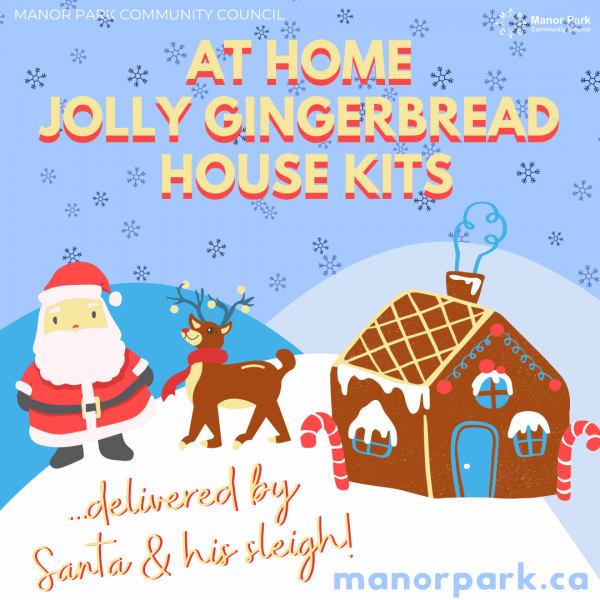 Delivered straight to your door - everything you need to build the JOLLIEST gingerbread house in Ottawa!
Your kit will come with an EXTRA special delivery by the man in red... SANTA, his "sleigh" & Elf! 
Photo with Santa included in the price! We'll snap your yearly Santa photo and send it straight to your inbox - no waiting in-line at the mall this year.
Included in your jolly gingerbread kit: gingerbread house, base, icing and lots of candy to decorate with - or eat!
With special appearances by the RCMP horses!!! (Sorry we can't take the horses all across the city!) But not to worry - Santa has a few FUN ideas up his sleeve!!!
Delivery Date: Saturday, December 12, 2020 between 10 AM - 4 PM.
$50 - includes festive gingerbread house kit, physically distanced photo with Santa emailed to you, home delivery
Deadline to order: Sunday, December 6th at 5:00 PM
---
Friend & Family Activity Bags
Staying connected with friends and families near or far this winter will be fun and easy when you've got games, activies and all the pieces in one handy place!
Activity bags come in pairs - one for you and one for who ever you want to connect with!
Find games, activities, stories and more, all which can be done through Zoom, GoogleHangOuts, Face Time or whichever video conferencing tool your prefer.
Activities can be shared easily because whoever you give the other bag to will have all the same pieces as you do!
Activity bags are suitable for families, grandparents and grandkids, aunts, uncles, siblings, etc...
Designed by an Ontario Certified Teacher and Registered Early Childhood Educator.
Order your December bag by December 1st for pick up on the 16th!
---
Halloween
Halloween at Home
Halloween Candy Bags - Delivered Straight to your Door! Contactless and peanut-free!
This year the Manor Park Community Council has the tricks... and the treats! Ottawa Public Health has advised against trick-or-treating this year. So let us bring the candy to you and your family! Celebrate Halloween at home this year with a themed, peanut-free candy bag delivered straight to your door by Steph and Josh!
Order by Wed Oct 28 at 4:00 PM! Candy bags will be delivered on Saturday, October 31 between 12:00 PM and 3:00 PM.
Halloween Haunted Walk
Break out the black lights, black cats, and jack-o-lanterns -  it's time to decorate! Create your best home Halloween display and tell us where to find it! We'll include it on our Haunted Walk Map for children and families to enjoy on Halloween in lieu of trick-or-treating! Add your address to take part and get in the spirit of Halloween!
Online Kids Halloween Trivia
Take your Halloween Costume for a test run while answering some fun and spooky Halloween themed trivia questions!
Participants ages 6 - 12 are welcome for this friendly game of Halloween trivia, just in time for Halloween!
October 29, 2020
Friday Evening Happy Hour Trivia: Halloween Edition
The Manor Park Community Council & Lindenlea Community Association are hosting Halloween trivia!
A safe way to have some fun from the comfort of home! A great way to visit with neighbours and friends, converse, have some fun - and maybe even get a little competitive?! Come with your favourite happy hour refreshment, Halloween candy and have your pen and paper ready! Trivia is adult focused, but family friendly! All are welcome to play. Winner wins bragging rights!
The Zoom link will be posted at 5 PM on Fri Oct 30 on our Facebook page and on http://www.manorpark.ca.
---
Swaps
Skate & Accessory Swap
Has your child outgrown their skates – again?! Looking for a new-to-you pair for yourself? Save money – and the planet – by bringing in your used hockey or ringette skates, figure skates, skate guards, skate bags, hockey sticks, ringette sticks, to be swapped for new-to-you equipment. Please no hockey or ringette pads, or other winter sport equipment.
Drop-off your items at the Manor Park Community Centre starting January 6, 2020. Upon drop off you will receive a voucher to participate in the Skate & Accessory Swap. The voucher will grant you access to the swap on January 22, and allow you to select from items contributed.
To obtain your entrance voucher, drop your items off at the Manor Park Community Centre at 100 Thornwood Road, Monday to Friday, 9:00am – 4:00pm or call to make special arrangements.
Evening drop-off will be on Monday, January 13, 2020 from 6:00 – 8:00 PM.
Accepted items: hockey or ringette skates, figure skates, skate guards, skate bags, hockey sticks, ringette sticks.
January 2020
Kids' Clothing Swap
From September 3 - November 21, bring bagged, clean items your child no longer wears to the Manor Park Community Centre. At drop-off you will receive a voucher to participate in the Kids' Clothing Swap. The voucher will allow you entrance to the swap on November 23 from 11:00am – 1:00pm, and allow you to select from a number of items contributed to the swap.
All clothing items are accepted. No toys, books or accessories please. All remaining or unclaimed items will be donated to Rideau Rockcliffe Community Resource Centre.
To obtain your entrance voucher, drop your clean, bagged items off at the Manor Park Community Centre, Monday to Friday, 9:00am to 4:00pm or call 613-741-4753 to make special arrangements.
November 2019
Halloween Costume Swap
Have you ever stressed to find the right costume or perfect Halloween accessory, but didn't want to spend a fortune? This Halloween, reduce your eco-footprint and don't drain your wallet, join us to swap your old, gently used costumes!
From September 3 - October 17, 2019 bring bagged, clean costumes to the Manor Park Community Centre. Baby, child, teen and adult – all sizes accepted. When you drop of your used Halloween costumes, you will receive an entrance voucher to participate in the Halloween Costume Swap. Presenting the voucher will allow yentrance to the swap on October 19 from 12:00 – 2:00pm, and allow you to select from a number of second-hand Halloween costumes for you or your family.
The earlier you arrive, the better the selection you will have to choose from! All costumes accepted. Remaining or unclaimed items will be donated to a refugee settlement agency.
To obtain your entrance voucher, drop your clean, gently used costumes off at the Manor Park Community Centre at 100 Thornwood Road, Monday to Friday, 9:00am to 4:00pm or call to make special arrangements.
October 2019
---
Gingerbread House Party
Gum drops, kisses and candy canes, oh my! Spend a cozy Saturday morning, assembling and decorating a beautiful and festive gingerbread house! Create a delicious and completely edible centerpiece for your holiday table.
Assembly is self-guided. All supplies included. Not recommended for those with severe food allergies or gluten intolerance.
Limit 4 people per house and children under 18 must be accompanied by an adult.
December 7, 2019
Annual Skating Party and Chili Cook-Off
The rinks come alive with hockey games and pleasure skating during the Annual Skating Party and Chili Cook-Off. On the first Saturday in February, the party opens with our own 'Manor Park Winter Classic' hockey tournament between local teams. Following the game, families take to the ice to build up an appetite for a taste of the Chili Cook-off entries, chili cheese dog or hot dog!  A bonfire keeps everyone toasty - while the city mascot keeps spirits high. Twinkling lights and a light snowfall make the Skating Party the perfect family friendly event!
Join us and celebrate winter with warm food, drinks, a bonfire, music - and skating!
February 1, 2020
3:30 - 5:00: Winter Classic
5:00 - 7:00: Skating Party
Halloween Pumpkin Carving Party
Join us at the Manor Park Community Centre to carve a spooky pumpkin with the whole family! Enjoy carving a jack-o-lantern and leave the mess to us! Pumpkin and all other supplies included. Bring a container if you wish to keep your pumpkin seeds.
Pumpkin carving is self guided.
Spooky Swamp Water Punch and Halloween treats provided.
Children under 18 must be accompanied and assisted by an adult.
October 2019
Trick-Or-Treat at the Manor Park Community Centre
Our door will be open to those trick-or-treating on Halloween night. Trick-or-treat for a Halloween goodie and find out what programs are happening at the Manor Park community centre!
October 2019
---
Family Workshops
Mommy & Me Art with Lindsay Watson
Daddies are welcome too!
At home with your little one? Want to learn a new skill while introducing your budding artist to their creative side? Join us in the exploration of painting, drawing and sculpture!
All materials provided. All materials are non-toxic and child safe.
Lindsay Watson (BFA) will lead this course, offering years of teaching experience.
April - May 2019
Old-Fashioned Valentine Workshop
What could be sweeter than a handmade Valentine?  Show the ones you love how much they mean to you with this personalized, special handmade gesture. All supplies included -- plus love songs and warm refreshments!
February 2019
Grow Smart Talks: Drugs & Youth Info Night
Parents and their children are encouraged to attend this invaluable discussion together, allowing them to reflect back together on the information shared.
This information and interactive session seeks to provide families with factual and current information to make informed choices when it comes to drugs and substance use, specifically marijuana and vaping. It will provide tools to manage peer pressure, and help youth find the words and reasons to defend their choices by teaching them about the affects of drugs and substance use on their mind and body, and how misuse and abuse can alter a life.
Presentations will be provided by Ottawa Police Service's Cst Stephanie Lemieux and Cst Vianney Calixte (Manor Park's Community Officer), and by speakers from Drug Free World.  There will also be opportunity for audience members to participate with their questions.
GrowSmart Talks is a speaker series, focusing on issues facing today's youth.  Putting parents and their kids in the same room to hear from experts, it seeks primarily to equip pre-teens and teens with the knowledge and skills to improve their situational awareness, make informed decisions and respond to societal dangers, including those on the Internet, as well as encourage opportunities for personal growth. More information is available at www.GrowSmartTalks.ca. 
March 2019
---
Family Fitness
Baby & Me Workout
This class is for new moms who want to workout AND have a great time with other moms in the neighbourhood!  In this class you will work your cardio endurance, build strength through resistance training and strengthen your core, all with your little one alongside you.  Babies can be kept in car seats or on mats, or worn in a secure baby carrier (structured, Mai Tai or non-stretchy wrap will keep baby the most secure). This class will be a fun, supportive environment, allowing you to return to exercise after birth at your own pace, as well as tending to your baby as needed.
Full details, dates and rates found here!
Multi-Sport and Multi-Fit for Families 
Life with kids is busy! Between school, work, sports, activities and friends; who has time to workout and have fun as a family!? Wouldn't it be great if there was a program where you could do it all? As a family?
Introducing Multi-Sport & Multi-Fit for Families! This program is designed to help keep up with your family's active lifestyle. Kids get an excellent multi-sport program, parents and teens get to do a full body workout. We take advantage of the two separate gyms at Manor Park Public School - so no complicated drop offs!
Classes start with a 5 minute warm up and stretch all together. After the warm up we split into two groups:
Children's Multi-Sport:
Experienced instructors will take your children into the large gym at Manor Park Public School and introduce them to a variety of sports across the 8 weeks. Each sport will get a two week focus.
Our MultiSport program is NOT a babysitting class! Our purpose here is not to just to entertain your children while you attend a fitness class. We want your children to be safe, challenged, learn and to have fun! Your child(ren) will go through comprehensive skills and drills selected for their ages and abilities and then transition into gameplay!
Adult Multi-Fit:
Moms, Dads and Teens will head into the small gym at Manor Park Public School for a Multi-Fit class with themes that change every week. You can expect to get a great mix of strength, conditioning and cardio in these high tempo classes! Expert instructor Cheryl Moreau knows just how to tailor a workout session, so we can safely say that this class is great for parents of all fitness levels. 
Manor Park Publc School
Adults: $100
Children: $75
Family of 4: $300 
Click here for dates, times and registration.
Schedule: